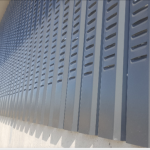 Here at Gusclad, our Ventilate sheets are available in a Box or Corrugated profiles. Sheets can be cut to required lengths and then vented. We vent from our 0.5mm, 0.6mm gauge and our Agriclad (0.55mm)range of cladding. The corrugated and box profile sheets are 1m cover plus the overlap on top of that. We need to know how much of the sheet you would like vented. The full available space will be ventilated, unless stated at time of ordering. The sheets are rolled into the profile first and then vented to customer requirements. As with all Gusclad products, we have nationwide delivery.
Usually found on agricultural building, the vented single skin sheets allow increased air to flow into the building. Also used to cover clothes lines.
https://www.gusclad.ie/products/agri-clad/
Storage:
Products should be covered or stored in a dry place,  if not used immediately. This is to prevent the ingress of water, which could damage the cladding.
Delivery:
While Gusclad Ltd will endeavour to meet our delivery estimates. Gusclad Ltd cannot guarantee delivery within the time frames and will not accept responsibility if your order is delivered outside the 5-15 working days time frame. We would strongly recommend that you do not arrange for tradesmen to carry out work on your behalf until your order has actually been delivered. Any shortages on deliveries must be reported to our office within 24hours of delivery.