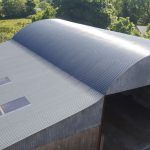 Agriclad:
Department of Agriculture, Food and The Marine, minimum standards for roofing and side Cladding S102 March 2020. Gusclad Agriclad is the grant approved sheet which can be available in the Corrugated or Box profiles.  This product would be used in buildings that house animals. The agriclad sheet can be vented to allow extra ventilation in the building. We can also curve the agriclad sheets in the corrugated profile. The Agriclad sheets are available in Juniper Green and Slate Grey and are 0.55mm gauge. The sheets can be cut to the required lengths.
The corrugated and box profile also come in a polycarbonate clearlight.  Nationwide delivery also available from our Ballyfarnon or Roscrea sites. Full Vat invoices are provided on all orders, which may be used to reclaim vat.
https://www.gusclad.ie/contact/
Storage:
Products should be covered or stored in a dry place  if not used immediately. This is to prevent the ingress of water, which could damage the cladding.
Delivery:
While Gusclad Ltd will endeavour to meet our delivery estimates. Gusclad Ltd cannot guarantee delivery within the time frames. Gusclad will not accept responsibility if your order is delivered outside the 5-15 working days time frame. We would strongly recommend that you do not arrange for tradesmen to carry out work on your behalf, until your order has actually been delivered. Any shortages on deliveries must be reported to our office within 24hours of delivery.