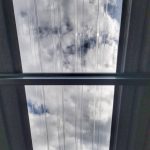 We supply Clearlight in various lengths in both the Box and Corrugated profiles. The Clearlight are polycarbonate and are strong yet flexible, they are as transparent as glass.
Product Info:
The polycarbonate clearlights are 1.3mm gauge sheets.  To prevent deterioration they have a UV protective layer co-extruded on the outer surface. It is forming a barrier against UV light entering the body of the sheet. The sheets come in standard lengths of 3.048m(10ft), 3.657m(12ft), 4.876m(16ft) and 6.705m(22ft).
As can be seen in the photo above, the box clearlight have been used in the roof of our kit build shed.
The corrugated and box profile polycarbonate clearlights have been used on carports, to cover patios, and smoking areas in pubs and hotels. Flashings are available in 3m lengths in a polyester finish or a pvc finish. The Corrugated and box profiles match our Corrugated and box profile steel sheets.
https://www.gusclad.ie/products/corrugated/
https://www.gusclad.ie/products/box-profile/
Storage:
Products should be covered or stored in a dry place  if not used immediately. This is to prevent the ingress of water, which could damage the cladding.
Delivery:
While Gusclad Ltd will endeavour to meet our delivery estimates. Gusclad Ltd cannot guarantee delivery within the time frames and will not accept responsibility if your order is delivered outside the 5-15 working days time frame. We would strongly recommend that you do not arrange for tradesmen to carry out work on your behalf until your order has actually been delivered. Any shortages on deliveries must be reported to our office within 24hours of delivery.